---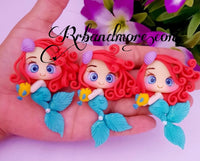 This is a prebuy (different to preorder) for our exclusive maker of SPARKLE clays. Ive been working behind the scene for this order and its ready to be shipped end of the week, and due to arrive by mid Julyc2022 on condition there is no hold up with customs. Once sold out there will be no more till my next order with them.  

Prebuy also means i can pack and ship as soon as they arrive so i dont need to find room to store.

All items can be used for a wide variety of crafting, everything from hair bows, to pendants (just add your own eye screw) even photo frame decorations. 
Please note as clay embellishments are handmade, there may be slight differences in each of them. Also slight blemishes and imperfections may occur. 
All clays are fragile and may contain small parts, and are not intended to be used as toys.  

Should you add available now items and prebuys or preorders items to the same order, all items will be shipped once preorder or prebuy items have arrived. Should you wish to have available now posted first please feel free in contacting me and i can post them out and once preorder items have arrived i will then contact you to arrange payment for postage for the additional items.