---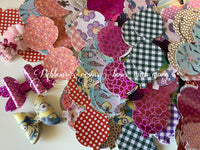 Would you like to get into the leatherette bow craze but dont have the time or tools to make them, well look no further, i have some precut bow tops to get you started. 
Bows made up are examples of what they look like with and without tails
size - of bow top (made up is) 5.5cm (h) by 5cm (w) 
tail ive used in example. is mermaid waves tail 9cm.
They can be bought in packs of 10, 25 or 50 - I  will attempt to ensure you receive a variety in the pack you have choosen. 
Please note due to lighting images appear dark than they should, and image placement may be different based on cutting of sheets