---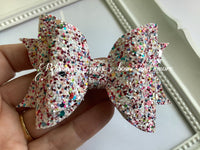 Handmade Leatherette Bows. Each bow has been handcut and assembled by me, using the original Flutter Bow that is copyright from the UK. I have permission to use and sell the template.
These bows dont have anything on the back of them which will allow you to add your own hairclips, headbands, or use for scrapbooking.  
I currently only have 1 made should you like more please feel free in sending me a message 
Size approx 9.5cm (3.75") (one tip to other tip of tail) 
 Please note due to lighting product colour v's image may vary slightly, there will be limited numbers and as these are hand cut placement of images will vary.
06-02-20-b2